Join Gambling Craft Affiliate Program

To start making money in the Gambling Craft affiliate program, you need to create an account on this site. The following tips will help you register and give answers to questions that sometimes arise at this stage. The instruction describes each step before starting work with the affiliate program.
Step 1. Login to the site

To register, go to the official page of the gamblingcraft.com affiliate program, then click on the «Register» button. A page with a form for entering information about yourself will open on the screen. The buttons «Test the system» and «Start working with us» lead there.
Step 2. Filling out the registration form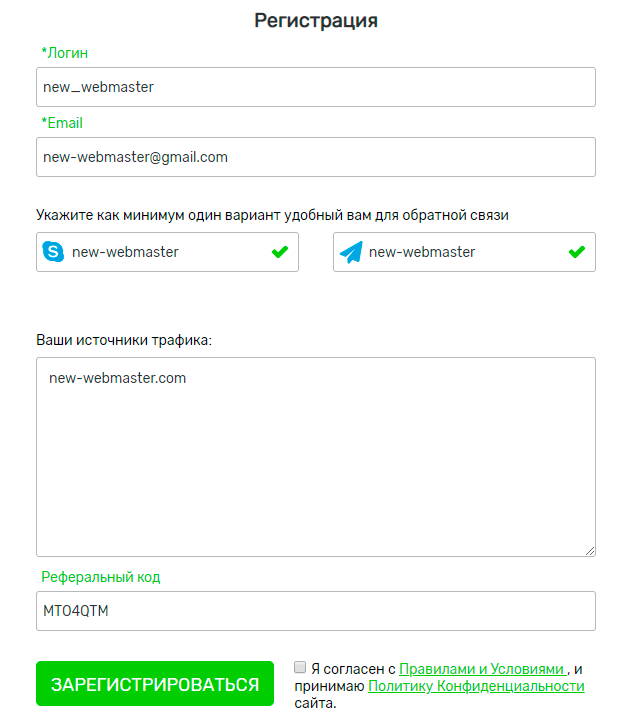 In order to register in the affiliate program, you must specify the following data:
Login;
E-mail;
Skype or Telegram;
Traffic sources.
In the field with traffic sources, you need to make relevant links to sites where Booi and PlayFortuna ads will be placed. If you don't have your own sites, the webmaster has the ability to direct traffic from other sources, for example, from YouTube, social networks, blogs, etc. To start cooperation on such conditions, contact the manager who will help you choose the most convenient partnership model.
The last field below - the referral code - a unique set of characters assigned to the account. Thanks to him, it will be clear that the invited webmaster came directly from you. By clicking on the appropriate check box, confirm acceptance of the Terms and Conditions, as well as the Privacy Policy of the site. After completing the data entry, be sure to double-check it to make sure it is correct and correct, and then click on the "Register" button. After that, a notification should appear in the upper right corner that the application will be considered within 48 hours.
Step 3. Registration confirmation

Gambling Craft Manager will contact the webmaster using the method specified during registration. In the process of dialogue, you will receive advice on choosing the optimal model of cooperation, learn about the opportunities and benefits of a partnership with Gambling Craft, and also can ask questions of interest. The manager will tell you about which advertising materials are available for webmasters and provide information about payments. If necessary, the employee will request additional data to consider the application. The final decision regarding registration will be announced in an e-mail or using any other method convenient for the webmaster.
Step 4. Login to your account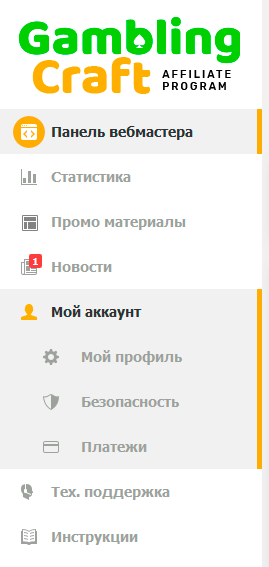 As soon as the application for creating an account is accepted, an email with a password from your personal account will be sent to your email. To enter the account you need to enter the username specified during registration and the password from the letter. After that, the webmaster can immediately start promoting Play Fortuna and Booi, and receive money according to the chosen model of cooperation.